---
---
Born in Eindhoven, the Netherlands in 1992, Roos owes her love for nature to her family, who introduced her to the diverse landscapes around the world at a very young age.
At the art academy, nature manifested itself in her work through pre-existing natural elements. Her work consists of temporary installations, sculptures, drawings and photographs, which she produces in both natural and urban settings.

In 2019 she received her BA at the art academy AKV|St. Joost in 's-Hertogenbosch. At the Launch exhibition, she presented her thesis 'Traces of time's passage', for which she was nominated for the SBK Sprouts Young Talent Award and the SBK-Otto Hetterscheid Stimulation Prize.
After the academy she was one of the participants of 'Inversie' Talenthub Brabant, was nominated for the AG-Kunstprijs and has had her first solo exhibition. With various achievements, she continues her practice from her studio in the Temporary Art Center in Eindhoven and works with conviction and enthusiasm with various (international) artists.

Roos Vogels is a visual artist. Her work is a combination of art and an almost scientific research. Nature is the source of inspiration for her. In her work - which consists of installations, sculptures, drawings and photos - she tries to fathom nature.

Transience plays a major role in Vogels work, not only because she uses materials such as branches, leaves and soil. The emphasis in her work shifts from interest for the beginning of the cycle, to the intermediate stage - between the sublime and the dead.

The basis of the art of Vogels is the wonder of nature. With her work she tries to approach nature in different ways to achieve artistic results, like observing transformations in the landscape to experimenting with the growth of plants. Raised by the prospects of our society's destruction of natural resources, the 'romantic' idea of reconciliation with nature takes on a new meaning for Vogels. But it is the urge to fathom nature, this wonder, that she wants to convey to her audience.
---
---



Roos Vogels - 1992
Lives and works in Eindhoven, The Netherlands


Upcoming



---

Solo and Duo Exhibitions
2022 - Anaphora - Solo exhibition - Albert van Abbehuis, Eindhoven
2020 - Bend the line - Being the line - Duo exhibition with Gam Bodenhausen - TAC, Eindhoven


---

Group Exhibitions
2023 - BIG ART - Bajeskwartier, Amsterdam
2023 - Onze Nederlandse Maatjes - WARP, Sint-Niklaas, België
2023 - Onder één dak - Witte Rook, Breda
2023 - _____ New Dutch Minimalism - KEVN, Eindhoven
2022 - From the Battlefield - SEA Foundation, Tilburg
2022 - Matter over Mind - EICAS Museum, Deventer
2022 - AG-Kunstprijs (Academisch Genootschap), Eindhoven
2022 - Benefiet voor Brabant, Albert van Abbehuis, Eindhoven
2021 - This Art Fair - Kromhouthal, Amsterdam
2021 - BIJ/NA - StadsGalerij, Breda
2021 - Sprouts - Arti et Amicitiae, Amsterdam
2020 - Benefiet voor Brabant - PARK, Tilburg
2020 - Apprentice Master returns from the web - TAC, Eindhoven
2020 - Beyond the range of posibilities, Apprentice Master - Online at Kunstpodium T
2019 - SBK Sprouts Young Talents 2019 - Amsterdam
2019 - Launch, Graduationshow - 's-Hertogenbosch
2019 - And Now We Act - De Fabriek, Eindhoven
2018 - Make Room Make Room, Minor Arts & Nature - Werkwarenhuis, 's-Hertogenbosch


---

Artist-in-Residence
2023 - Artist in Residence (2 months) - Kunstnarhuset Messen, Ålvik, Norway
2021 - Group residency and exhibition (5 weeks) - BIJ/NA - StadsGalerij, Breda


---

Projects / Commissions
2023 - Senses - Performance event - United Cowboys, Eindhoven
2022 - From the Battlefield - Collaborative art project - SEA Foundation, Tilburg
2021 - Salix alba - 49m2 / jaar 5 / zomer - Zaartpark, Breda
2019 - Proposal for a site-specific work for IJsselbiënnale 2020 - Deventer


---

Other Activities
2020 - 2021 -

'Inversie'

Talenthub Brabant - Organizations: TAC, Witte Rook, Kunstpodium T
2019 - 2020 - Apprentice at Apprentice Master Project - Kunstpodium-T, Tilburg


---

Positions
2023 - present - Facilities and desk coordinator at MU Hybrid Art House - Eindhoven
2022 - present - Freelancer at MU Hybrid Art House (Production) - Eindhoven
2020 - 2023 - Freelancer at MU Hybrid Art House (Front desk employee/Suppoost) - Eindhoven


---

Education
2022 - 2023 - Certificate in Botany/Planting Advisor, de Ontwerp Academie, Boskoop
2015 - 2019 - Bachelor of Fine Arts, AKV| St.Joost, 's Hertogenbosch
2013 - 2015 - Propaedeutics Bachelor, Design Academy, Eindhoven
2009 - 2013 - MBO of Interior and Exterior design, Sint Lucas, Boxtel

2018 - Minor, Arts and Nature, AKV| St.Joost, 's Hertogenbosch


---

Nominations / Prizes / Grants
2023 - Work grant, Stichting Constant van Renessefonds
2022 - Work grant, Cultuur Eindhoven
2021 - Nominated, AG-Kunstprijs 2022
2021 - Work grant, Gemeente Breda
2020 - Work grant, Stichting Constant van Renessefonds
2019 - Nominated, SBK Sprouts Young Talents Award
2019 - Nominated, SBK-Otto Hetterscheid Stimuleringsprijs


---

Publications / Books
2021 - PARK 2018-2020 - Book
2021 - Witte Rook, 49m2 / jaar 5 / zomer / 15-09-2021 - Publication


---

Press / Reviews
2023 - City DNA - Article
2022 - Brabant Cultuur - Article
2021 - Lost Painters - Image report
2021 - Witte Rook, BIJ/NA, Deel 1 - Deel 2 - Deel 3 - Articles
2021 - Talenthub Brabant, Text by Linda Köke - Article
2020 - Eindhovensdagblad, Text by Rob Schoonen - Article
2019 - Lost Painters - Image report

---
---
Białowieża forest, Poland (1)

toyobo print (5 editions)
275 x 400 mm / 2022 / €275,- (excl. frame)
Białowieża forest, Poland (2)

toyobo print (5 editions)
275 x 400 mm / 2022 / €275,- (excl. frame)
Białowieża forest, Poland (3)

toyobo print (5 editions)
275 x 400 mm / 2022 / €275,- (excl. frame)
Białowieża forest, Poland (4)

toyobo print (5 editions)
275 x 400 mm / 2022 / €275,- (excl. frame)
Białowieża forest, Poland (5)

toyobo print (5 editions)
275 x 400 mm / 2022 / €275,- (excl. frame)
---
Nachisan Kumano Kodo

toyobo print (3 editions)
480 x 710 mm / 2022 / €520,- (excl. frame)
Hakone Yasuragi - no - mori

toyobo print (3 editions)
480 x 710 mm / 2022 / €520,- (excl. frame)
Hokokuji Bamboo forest

toyobo print (3 editions)
480 x 710 mm / 2022 / €520,- (excl. frame)
---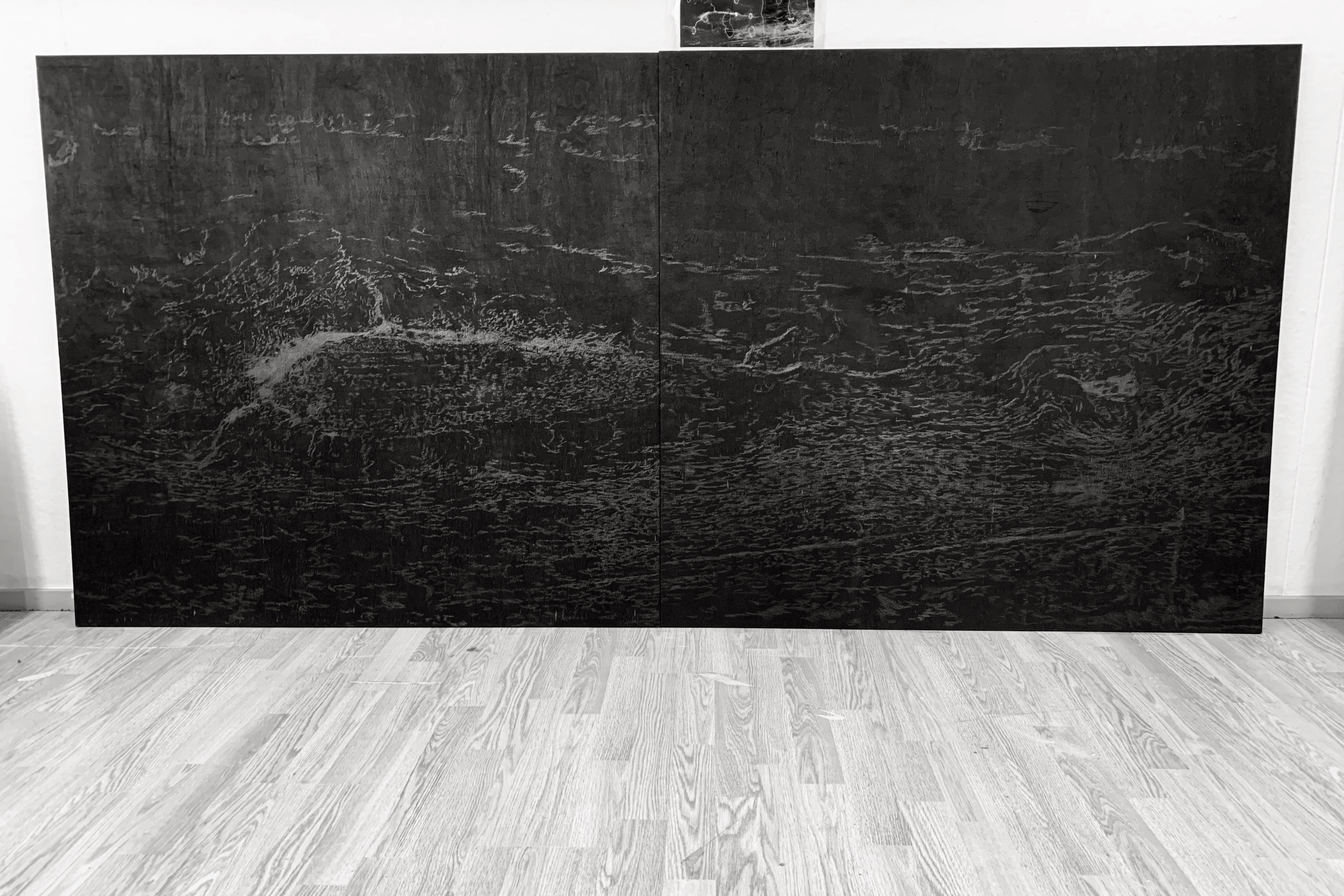 Circumference of years - Volume 1
graphite drawing on burned wood
120 x 240 cm / 2020 / €2.750,-
Circumference of years - Volume 2


graphite drawing on burned wood
40 x 70 cm / 2020 / €810,-
Circumference of years - Volume 3


graphite drawing on burned wood
60 x 80 cm / 2020 / €1.070,-
Circumference of years - Volume 4

graphite drawing on burned wood
50 x 80 cm / 2020 / €990,-
Circumference of years - Volume 5

graphite drawing on burned wood
40 x 70 cm / 2021 /
In private collection of Liesbeth Schreuder
---
Circumference of years - Volume 6

graphite drawing on burned wood
80 x 120 cm / 2021 /
In private collection of the artist
Circumference of years - Volume 7

graphite drawing on burned wood
240 x 360 cm / 2021 / €4.900,-
Circumference of years - Volume 8


graphite drawing on burned wood
120 x 180 cm / 2022 / €2.290,-
Traces of time's passage

graphite drawing on burned wood
210 x 244 cm / 2019 / €2.470,-
Repeating the tree - No. 1

pencil on paper
50 x 65 cm / 2020 / €460,-
---
Repeating the tree - No. 2

pencil on paper
50 x 65 cm / 2020 /
In private collection of Rob Schoonen
Repeating the tree - No. 3

pencil on paper
50 x 65 cm / 2020 / €460,-
Repeating the tree - No. 4

pencil on paper
50 x 65 cm / 2020 / €460,-
Repeating the tree - No. 5

pencil on paper
50 x 65 cm / 2020 / €460,-
Repeating the tree - No. 6

pencil on paper
50 x 65 cm / 2020 / €460,-
---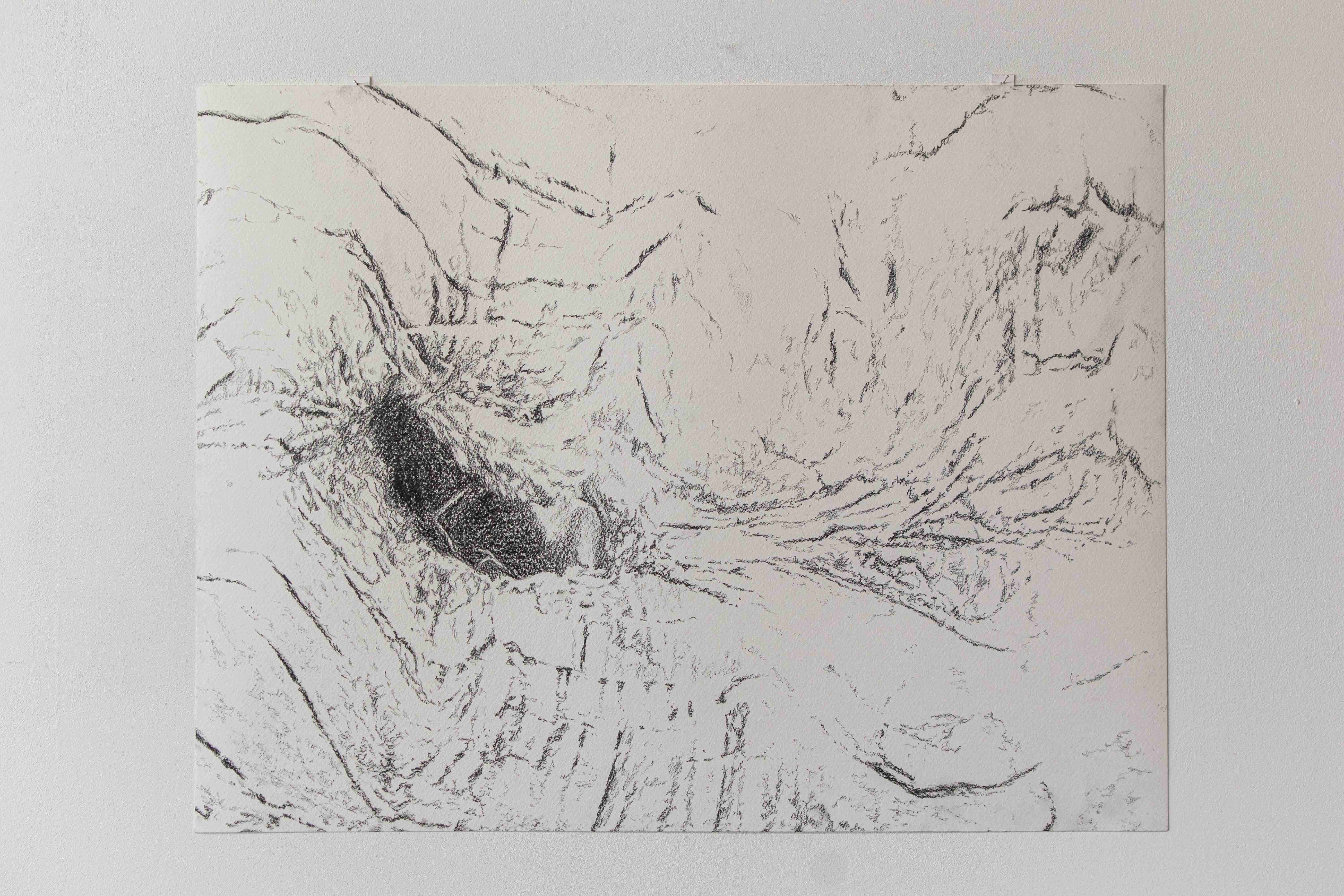 Repeating the tree - No. 7

pencil on paper
50 x 65 cm / 2020 / €460,-
Repeating the tree - No. 8

pencil on paper
50 x 65 cm / 2020 / €460,-
Knuffel van de heuvel

photo print on dibond acrylic
297 x 420 mm / 2018 / €420,-
Hole and Pile / Sand

photo print on dibond acrylic
500 x 750 mm / 2018 /
In private collection of Maarten Baas
---